The Cooperatize Team recently went remote – and since we are in the business of travel, spread ourselves across the world and visited places from the Americas through to Asia. So we decided to provide you with the best of our experiences in our new Cooperatize Around the Globe section.
If you haven't checked out Part 1 and 2 of this series from last week, then be sure to do so here and here. In Part 2, Cooperatize founder Roger Wu, gave an idea of what it's actually like to live and work in Japan including everything from co-working spaces to working out in Tokyo's gyms.
Part 3 moves on to the 'fun stuff' and covers attractions and things to do throughout Japan. We'll cover:
Top Things to do in Odaiba
Top Things to do in Shibuya
Things to do in Shinjuku
Onwards!
Top Things to do in Odaiba:
Odaiba, the man-made island, contains many new and modern exhibits and feels like a cross between Las Vegas and Disney World. The convention center with the Oldenburg Saw in front of it, Madame Tussauds, a huge Ferris wheel (Daikanransha), a Statue of Liberty copy, a few beaches, and a number of malls reside on the island.
My top picks:
The Mori Digital Art Museum

recently opened at the end of June 2018. Combining technology and art, the museum offers up a series of trippy, photo-friendly Kusama-esque infinity rooms. The museum offers no map so the first things to look for is the Lantern Room or the Floating Nest; these are limited experiences so at times the queue can get long. The Floating Nest suspends you in a net (thus, no heels or flip-flops) while the 360-degree digital art gives you an extreme IMAX feeling, while the Lantern Room provides an infinity room-like experience. Through the museum each room is in constant change, for example, sunflowers change to roses change to lilacs, and giraffes morph into horses and lions.

Upstairs in the Athletics Forest, you can interact with the digital slide or trampoline as well as climb the hilly terrain. You can even draw your own lizard or fish to roam inside of this new world. Finally, do not skip the En Tea Room. At first glance the simple tearoom offers various types of tea for 500 yen. However, this cup of tea isn't a normal cup. An empty cup blooms into a flower when tea is poured in. When you move the cup the flower follows and re-blooms in the new location. But be aware, if you drink too much of it, the flower stops blooming. To get there make sure you go to Palette Town and then cut through the Toyota Museum, which itself offers a variety of demonstrations: play sports from a Para-Olympian's perspective, test drive a new car, or see the latest and greatest in auto technology. The cost is 3,200 yen, but well worth it. You do need a reservation in advance.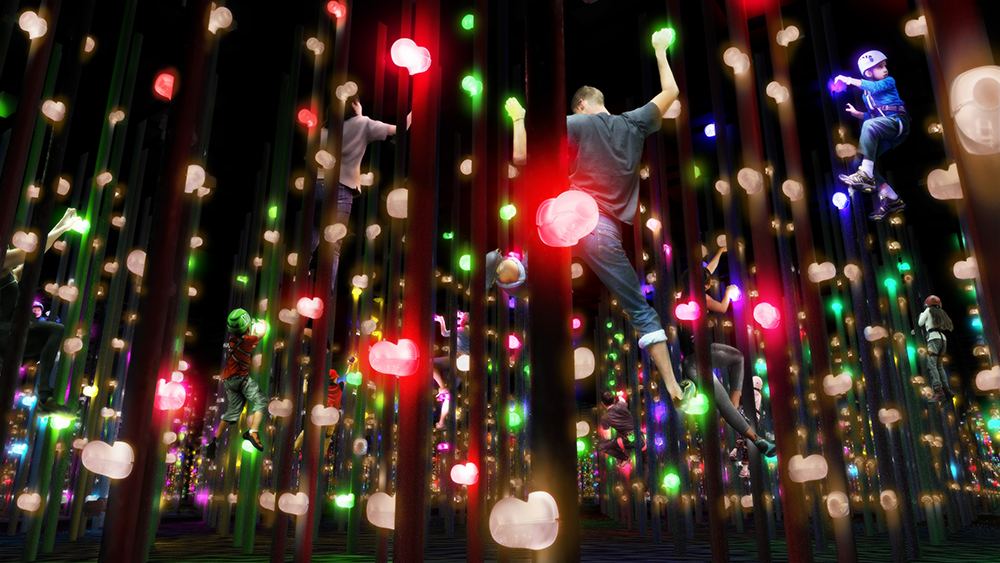 Athletics Forest
The Miraikan Science Museum

is about a 15-minute walk from the Mori Digital Art  Museum. 

While much of it is a regular science museum, the robot exhibit is not to be missed. The robots danced, kicked soccer balls, and gestured with human-like precision movements. I skipped the special exhibit and I did note that there are a lot of kids at the museum so be prepared!

Prior to leaving Odaiba I was able to visit the Tokyo Trick Art Museum. The museum offers poseable backgrounds where you can be seen doing amazing and incredible things. For 
example, you can pose so it looks like you are being thrown by a sumo wrestler, riding a tiger, or getting blown over by the wind. Admission is
1000 yen for adults and is on the fourth floor of the Seaside Mall. 

And when you've explored all of Odaiba, make sure to take the monorail back across to the mainland via the Rainbow Bridge. It's a great view all for the cost of one train ride.
---
Top Things to do in Shibuya
Shibuya Station offers the busiest rail station in the world as well as a lot of Tokyo's nightlife, shopping, and restaurants. Shibuya Crossing, which leads from the train station into the shopping district, is always featured in a number of movies and videos including Lost in Translation.
My top picks:
The Hachiko Memorial

, outside of Shibuya station, is a statue of 

an Akita and symbolizes loyalty and persistence. Hachiko would wait for his owner outside of Shibuya station everyday right when his train pulled in and they would walk home together. One day his owner never showed up having suffered a fatal brain hemorrhage, but Hachiko showed up every single day for the next 9 years 9 months and 15 days until his death waiting for his beloved owner. The Hachiko story has been told and re-told in many different ways including a 2009 movie starring Richard Gere.
FabCafe

allows you the opportunity to fabricate whatever you can imagine through their 3D Printers, CAD software, Arduino classes, and a variety of other technologies. The particular day that I stopped by, people were showing off their inventions:
-FutuRocket: Turn your dumb analog phone into a smart phone

-Hachi Tama: A smart toilet for your cat

-Kalkul:  Earphone technology 2.0

-Pixoo: A smart home device

-Smart Shopping: An easy way to get your daily necessities via e-commerce
Henn Na Café

offers coffee made by a robot arm named Sawyer and brought to you by the same team of one of the three star hotels I stayed in. Get ready for the future of coffee!
---
Things to do in Shinjuku
                                                Shinjuku feels like Times Square meets Old Asia. On one hand there is an exciting area called Golden Gai, where there are small bars and restaurants in rickety old buildings which seat only a handful people. Backed in close proximity, you can do a bar crawl here with minimal crawling. There are a number of tours that offer this!
A few steps away is a really touristy place that has the Robot Café and other shows. The Godzilla Toho Theater is also here.
My picks:
Shinjuku Gyo-en

is a private botanical garden, where you can see the collision of East versus West in architecture and in garden design. A variety of tea shops and snack bars dot the garden along with an interesting selection of plants, trees, and fauna.

The NTT Intercommunication Center

offers a number of cutting edge technologies showcased as art. Some of the experiences require reservations but are well worth the wait. The Haptic exhibit and the virtual reality demonstration are very well done and offer the future of where technology can go. Believe it or not, it's free.
Shinjuku Metropolitan Observatory

provides a great view of the city from either the North or South tower. With a top floor café and restaurant, it's a great place to unwind, as it is open until 11. Compared with some of the other observatories in the city, this one is free.
That's it for Part 3! Stay tuned for more fun things to do in Japan in Parts 4 and 5 in the coming weeks