The Cooperatize Team recently went remote – and since we are in the business of travel, spread ourselves across the world and visited places from the Americas through to Asia. So we decided to provide you with the best of our experiences in our new Cooperatize Around the Globe section.
If you haven't checked out Parts 1,2,3 and 4 of this series, then certainly be sure to do so! In Part 4, Cooperatize founder Roger Wu, gave us his favorite spots in various areas and neighborhoods of Japan. 
The fifth and final installment of Roger's Journey to Japan includes plenty of Insta-worthy shrines and temples and where to go for all your ramen and noodle needs. Is there anything more 'Japan' than that? 
Keep reading for must see's in:
Hiroshima and Miyajima
 Kyoto
 Yokohama
Onwards!
Things to do in Hiroshima and Miyajima
If you do get the JR Rail Pass, it's worth getting up early to take a day or two out west to Hiroshima and Miyajima. For all of history, Hiroshima will be most well-known for one thing and the city has many memorials and landmarks to ensure that we never forget. I found the museum to be fascinating and sad at the same time. It was more than worth the 200 yen and 2 hours I spent there.
In addition, check out the A-Bomb Dome and the Peace Cenotaph in the Peace Park, as well as Ground Zero, it's memorialized by a plaque up the street from the famed Okonomiyaki (a Japanese pancake that Hiroshima is known for) place that I went to. There are some other interesting things besides the bomb, like Hiroshima Castle, that got completely destroyed during the bombing but has been rebuilt. There is a good amount of English on the first three floors but the top two floors have no English, but some great pictures of Hiroshima's history.
Finally, if you have time, visit the Hiroshima Museum of Contemporary Art, which has some interesting works. It is located on the other side of town (close to the train station but up a hill). I saw this work in there which I found to be quite ironic.
After a heavy day in Hiroshima, you can take the train 40 minutes down to Miyajimaguchi and the ferry across to Miyajima Island where the UNESCO Shrine Itsukushima awaits you (all covered by the JR Pass). I got there in the fog and rain, which made the floating shrine seem more surreal.
Depending on the time of arrival, high tide or low tide will give you different experiences for the shrine. There are a lot of deer on the island that seem like statues. They aren't afraid of humans and are a very awesome natural attraction of the island. The other thing to do on the island is to take the ropeway to the top of Mt. Misen. Of course, I didn't know that the ropeway was being maintained (they do maintenance one week out of the year, just my luck), but since I traveled that far, I decided to walk to the top of the mountain.The route I chose seemed to be the shortest at 2.5KM, but no one told me it would be the steepest. The route was challenging and with the pouring rain (they would eventually close the mountain down) was also treacherous. After about 45 minutes (they tell you the average person takes about 90 minutes), I reached the summit.
Inside the observation deck is an attendant. This nice lady probably around 90 years old, handed me a towel. Since I only saw about 3 other hikers on the trail, with a combination of Google translate and hand signals, I asked her if she lived up there. If I was out of breath sweating and sore, how could she get up there? She answered simply that she walked.
Things to do in Kyoto
During the extreme weather conditions, I decided to use the JR pass to the max and go to about 200  miles east to Kyoto. Kyoto is even more old school Japan. There is less English there, and many more customs. The concept of indoor, outdoor, and shoe etiquette is practiced much more here, with museums and attractions that have clear instructions on what to do
The former capital of Japan, Kyoto is perfect for shrine and temple lovers.There are hundreds of shrines and temples located around the city. You might not be able to get to all of the shrines, but here were the ones that I found the most interesting:

Fushimi Inari Taisha 
This temple is known for its orange gates that lead all the way to the top of the Mount Inari. It reminded me of Christo's Central Park Gates project (or really, vice versa) and is open 24 hours a day. Because of this, I went at night when most other temples were closed. The maps aren't that great and definitely not drawn to scale. After doing Mount Misen in the morning though, I attempted to scale Inari as well. However, a combination of the darkness, the dizzying array of the same gates (with a high possibility of getting lost), the storm, and a sign telling me to be aware of wild boars had me turn around for basecamp.
Sanjusangendo
This temple is known for its 1,000 buddha statues inside of the temple. For 600 yen you can go inside and see all of the buddhas and statues within. Well worth it. Don't take pictures inside though, they are pretty strict about it.
Ryozen Kannon 


It's a few hundred yen to go inside but I was able to see this massive Buddha from the top of the Kyoto Tower. From what I hear it wasn't as old or historic as some of the other temples but big statues are always great to marvel at.
Yasaka Shrine 
Another 24 hour shrine, it is at the end of a nice long strip of restaurants and shopping.
I was also able to visit the Forever Modern Art Museum in Gion in between the Ryozen Kannon and Yasaka Shrine. Like most of Kyoto, shoes come off and their permanent collection features many of Yayoi Kusama's famous pumpkins and dot motif prints and originals. The café features more dot art and the chamber rooms give you nice peaceful views of the gardens (which were closed when I went).
Nishiki Market is Kyoto's food market featuring vendors everywhere on a narrow street selling octopus ("tako"), sushi, sea urchin, and other delicacies; a fun place to walk through although it can get very crowded.
The International Manga Museum was closed the day I wanted to go due to the rain, but I took a stop at Nijo Castle, where I was able to imagine what a day in the life of a shogun might be. Again, shoes off  while inside the palace.
Were it not for the rain I would have also checked out the Kyoto Railway Museum, Namikawa Cloisonne Museum, and the Iwatayama Monkey Park (Arashiyama).
Things to do in Yokohama
Located about an hour south of Tokyo and accessible by JR is Japan's second largest city, Yokohama. Yokohama has an interesting history and is a major port town in Japan.
Like Tokyo it has a fish market, but unlike Tokyo it has the biggest Chinatown in Japan. You can spend a few hours browsing the shops and chowing down on the all you can eat specials.  
Don't get too full though, a few blocks up the street is the CupNoodles Museum where you can learn about how Momofuku Ando came up with CupNoodles, design your own custom CupNoodles, and get all kinds of great CupNoodles schwag.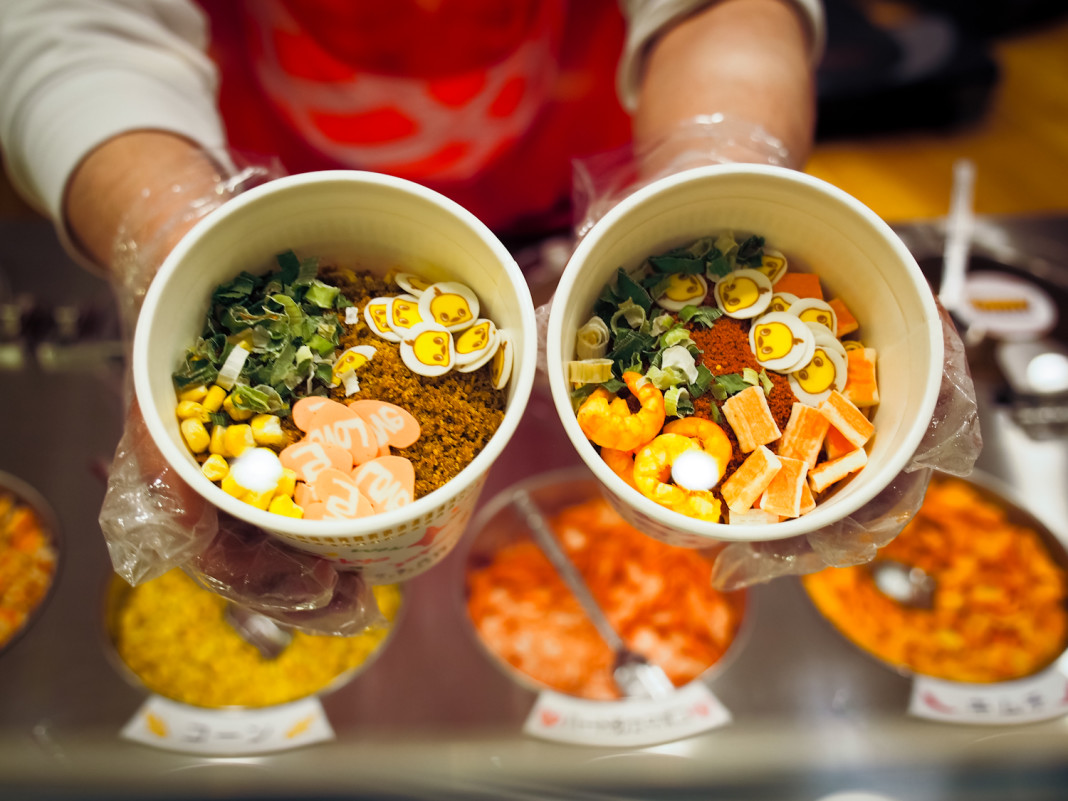 Further up the street in Shin-Yokohama (accessible via the JR), you can visit the Shin-Yokohama Ramen Museum.
It's a bit less than a museum but more of an aggregation of the top 10 Ramen Restaurants in the world. The bottom floors are a re-creation of 1950's Tokyo and if you visit on a weekday you'll be able to have your pick of ramen.
…
We figure that ending on a note as tasty as ramen is not a bad way to finish off this series. If you stuck with it through all 5 parts, we'd love to extend another treat your way – hit us up at publishers@cooperatize.com for a bonus campaign application token for the month of October (please put "I <3 Japan" in the subject line). Anyhoo! We hope you enjoyed and learned a bit about this awesome destination. Are you planning your own trip to Japan? Let us know what you found helpful!
Thanks and stay tuned for more 'Cooperatize Around the Globe' features!!