You know that scene from Good Will Hunting when Will is cleaning up the halls at MIT, and solves that incredibly difficult equation on the chalkboard? All that unbridled potential hidden behind a janitor's outfit waiting to be unleashed into the world. I think the 2016 PRSA International Conference is like Will Hunting in this scenario. A conference that had the potential to be so great and amazing at pushing the PR and communications industry forward, but was somewhat tied back by its own way of doing things.
Ok, that analogy wasn't fair. I had the amazing opportunity to attend this year's PRSA International Conference (also known as ICON) in Indianapolis, Indiana. The conference was pretty awesome in many ways, and the people I met were truly one-of-a-kind. Having said that, I wanted to do a quick Yelp-ish review of the conference given it was my first time attending and speaking as well.
#PRSA is poised to adapt, grow, engage into the future. #PRSAICON pic.twitter.com/GkJzKyUSiq

— Jane Dvorak, APR (@JKDJane) October 23, 2016
Location & Venue
Indianapolis is by no means a huge metropolitan city, but with that comes affordable hotels and food. The conference took place in the heart of "downtown" at the JW Marriott right across from the Indianapolis convention center and near a bunch of other hotels. I was reading somewhere that Indianapolis invested millions of dollars to build up the downtown area and is ranked the top destination for conferences according to USA Today. Sure, there are sexier-sounding superlatives for your city, but having the top destination for conferences is a great title to have and even better for the hotels in the area. Long story short, the investment in the hotel and downtown area definitely shows in terms of the variety of restaurants within walking distance of the hotel and the number of conferences that take place every year in Indianapolis.
Speaking of conferences, how about all those Future Farmers of America kids? Even if you weren't in Indianapolis for any conference whatsoever, you couldn't walk a block without seeing a teenager wearing one of these jackets:
Apparently 50,000+ kids were in the Indianapolis area the same time as the PRSA conference. Needless to say, the hotel got pretty crowded and seas of kids were seen roaming the streets of downtown Indianapolis. #1 destination for conferences rightly deserved.
Final Grade: A
Leadership Rally & Leadership Assembly
Now this was a 2-day mini-conference that chapter, section, and district leaders had to attend to talk about leadership within their respective groups. After about the 2nd or 3rd talk about leadership, I found the content to be repetitive but hey, we were there to build leadership skills right?
Nevertheless, it was a great opportunity to meet people face to face whom I have only heard over conference calls for the last year. Never underestimate the face-to-face time since that is one of the main reasons people come to conferences like this.
The actual Leadership Assembly is a production in of itself. It felt like I was in Parliament and we were voting on whether to paint the local bike parks green or blue. A lot of rules, regulations, and processes unfolded themselves over 4+ hours. It was interesting to see how passionate some leaders are in the association, but at the same time for someone relatively new to PRSA I thought it was over my head. There are only so many times you can debate the wording in one sentence, aka the "blue section."
Final Grade: B-
Food
For the Leadership Rally/Assembly, the food was on point. Now onto the conference, I think most people who attended will agree that the options were pretty lacking. You have a workshop at 12:45 and then another one at 2:45, at what point do you run down to the hotel bar and grab a burger to eat? On certain days there were smaller morning meetings with all the special interest sections which had their own catered breakfasts, but if you were a regular attendee, you were left to your own devices to scour the hotel for food.
Now there was a opening reception with decent food and open bar which was nice. There was also a luncheon in the main room but I found out that if you didn't pay for that part of the conference, you could stop by the conference registration booth and pay a cool $150 to get access to the lunch. $150 goes a long way in NYC, and we're in Indianapolis here. I think conference attendees could've gotten more bank for their buck with the chicken tenders at the bar downstairs.
Final Grade: B-
Speakers & Programming
This is where I think the conference had the most potential to really innovate and educate attendees on the future of the profession. I felt like half of the workshops were about crises communications and how to develop processes for crises. Isn't this just a part of doing your job as a PR practitioner? During the Internet of Things workshop by IBM's Brandi Boatner, one attendee asked a question about a consumer might deal with a personal crisis like their son getting bit by a infectious bug. That mother or father would call the first responder, and while the parent is waiting maybe their phone would show a YouTube video to help deal with the crisis.
What if there were "public" first responders for airlines, hotels, Starbucks, etc.? During a workshop on community engagement, Corinne Allie from the Cleveland CVB discussed how their city built a physical social media office in Cleveland to handle all the questions and comments from visitors during the RNC convention. It seems costly to have all these brands, companies, and PR agencies to handle crises on a one-off basis when many of the crises are similar in nature (e.g. "why is my flight delayed?", "the coffee tastes weird today.", "what's the wifi password in the hotel lobby?") What if the city's first responders not only answered emergencies relating to health and crime, but also the more mundane questions? Just a thought.
I digress.
Too many of the workshops were focused on the state of PR and communications and not enough discussing the future. Topics that are affecting the industry include social media platforms, influencer marketing, international communications, etc. Having said that, there were typically 4-5 workshops taking place at any given time slot, and it made it difficult to pick one that you really wanted to go to without feeling a bit of FOMO. FOMO, as we know, is one of the biggest motivators for belief and action, and I think the conference did a great job of making you feel engaged and wanting to go to every workshop.
As mentioned earlier, I had the honor of presenting a workshop on sponsored content and influencer marketing at the very last time slot of the conference, but still had a decent size audience who came to listen to my stream of consciousness. Thanks to all those who came!
Last session of the day at #PRSAICON we're talking about influencers and sponsored content! pic.twitter.com/IgGDkhYh4u

— Cooperatize (@Cooperatize) October 25, 2016
Final Grade: B+
Conference App
I've used numerous conference apps and every one seems to lack a simple feature that would keep me going back to the app for more. Twitter ends up being the default "app" to stay engaged with people at the conference through hashtags and mentions. However, the conference app for the PRSA conference was elegantly simple and useful. No bells and whistles, just solid enough to let you see the program, connect with folks, and monitor a timeline of activity taking place during the conference. The app also had a great little game going on inside the app showing the top posters:
Final Grade: A-
Workspaces & Outlets
Having a dedicated room for co-working is a trend for most big conferences. A simple room with tables and chairs, power strips, and good Wi-Fi lets you catch up on e-mails and work in between sessions. If you are attending a conference for the Future Farmers for America, sure I can understand there may not be a need to be always connected since you are there to learn and connect. For a conference dedicated to professionals who are handling communication crises on socal media and in the office, having a co-working space is essential to getting shit done. Instead, you had people squatting all over the hotel on random couches and chairs near wall outlets. Reminded me of Hurricane Sandy in NYC when everyone was huddling at ATMs where there were working outlets.
Final Grade: C
The Tweet Heard Around The JW Marriott
Who doesn't love a little drama at a professional conference? I'm not talking about someone getting pregnant kind of drama, but this Tweet set off a shitstorm on the conference app and for conference goers following the action on Twitter:
Disappointed to see this at #prsaicon. You can't listen to a brilliant woman w/o wondering what's under her shirt? Your problem, not hers. https://t.co/RaNqfNxf28

— Heather Whaling (@prtini) October 24, 2016
Is it just me or did some shade just come in the building?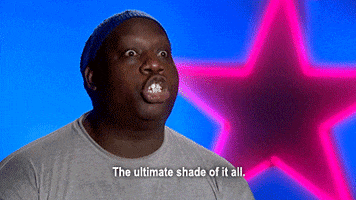 Apparently the adults of the party had to take the perpetrator aside and asked him to remove the Tweet which he eventually did. I still have a conspiracy theory that this Tweet was planted by the PRSA National team to A) generate some buzz in the room or B) see how a room of 500 type-A PR professionals respond to a controversial Tweet. Just speculation here, but how crazy would it be if that Tweet was planted? I digress again.
Final Review of the Conference
It was a solid PR, marketing, and communications conference with amazing speakers such as an astronaut spending a year in outer space, a communications guru from the CIA, and small influencer startups like yours truly. Some of the topics were a bit stale as if they were there just to be there, but hey I guess you can always rely on your bread and butter, right? Networking was abundant before, during, and after the conference, and the location could not be beat for the price and value.
Overall Grade: B+